How to Start an Urban Flower Garden
5th November 2020
People all around the world, no matter where they live, enjoy growing flower gardens. Just because you live in a city, doesn't mean that you can't grow flowers. Knowing how to start your own urban flower garden is a great way to bring some nature to your home.
Not only are flowers beautiful, but they are inviting to bees and butterflies. They will bring a sense of beauty and elegance to your home, no matter how small your outdoor space is. In addition, you don't need to be an expert to start a flower garden.
How to Start an Urban Flower Garden
Whether you have a small backyard or a patio, you can grow flowers. They are a relaxing scene to look out on from your home. Fortunately, by following some simple steps you can have your own flowers growing in no time.
Analyze Your Space
Before you buy your flowers, analyze the outdoor space you have. Keep in mind that in addition to using horizontal space, you can also use vertical space. You want to be able to make the most of the space you have, especially if it is limited.
Think about what type of planters you want to use. Urban raised garden beds can be a good choice, as they are practical for small spaces and allow your flowers to flourish.
Also, take note of how much sun your outdoor space gets and if the entire area gets rain or not. Certain areas will likely receive more sun than others. Make sure to allow your flowers to grow in an area where they get plenty of sun and can easily be watered.
Decide the Layout 
Once you get a good idea of the space you have to work with, decide on a layout. Try to go with something with symmetry, but that will also have a good pop of color. Make sure the places you choose to plant your flowers will get adequate light.
Choose Your Flowers
After you have brainstormed your layout, pick out what flowers you want to get. It is often best to start out simple and then go from there.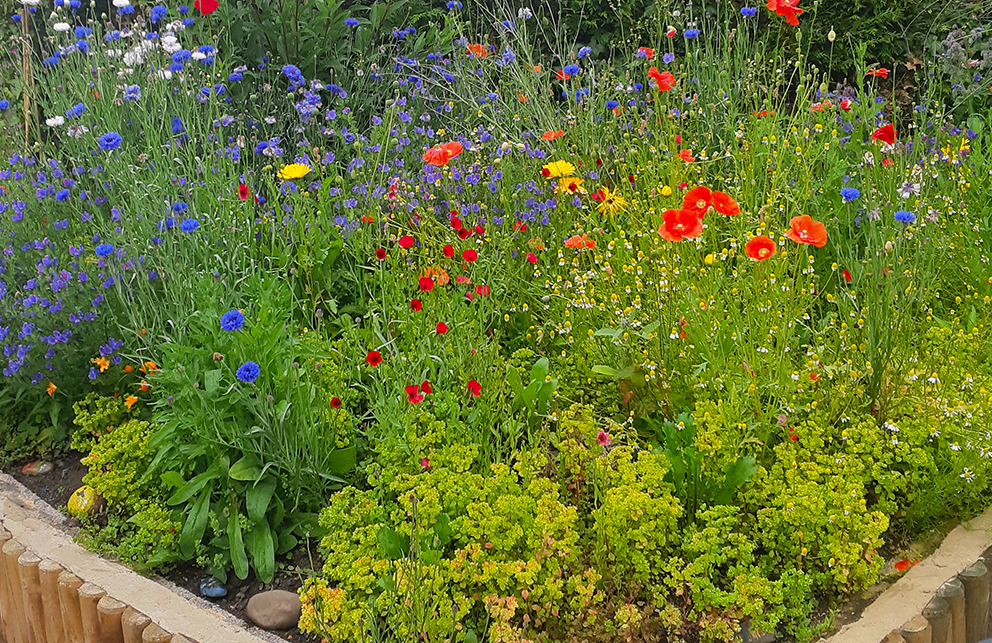 Wildflowers are a great option, to begin with. They are generally easy to grow and will attract pollinating insects. They are wonderful for supporting your local bees, which are vital to the environment.
The Urban Bloomer Seedbom is a fun and practical way to start your garden. They contain an easy to establish mix that is ideal for growing a garden of wildflowers. Bees love them and they help promote pollination. The mix contains Poppy, Corn Marigold, Cornflower, Forget-Me-Not, Oxeye Daisy, and Red Campion flowers that make a stunning garden. To use the seedbom, simply shake it up, pull the pin and submerge in water until fully soaked. Then drop the seedbom in your garden and make sure it is split open to allow the seedlings to grow, be sure to follow the directions to allow them to strive.
The Perfect Garden
Even if you live in an urban area, you can still have a flourishing garden. With the right layout and flowers, you can have a beautiful garden that even the bees can enjoy!
Tony Manhart is founder and editor in chief at Gardening Dream. Tony's enthusiasm and rich experience in all things related to growing plants have led him to share his abundant knowledge with gardening aficionados all over the world. When he is not working around his own garden, Tony spends his time writing tips and tricks on a variety of subjects related to plant cultivation and soil maintenance.
You can read Tony's latest article on how to grow Forget-me-not seeds.
[siteorigin_widget class="WP_Widget_Media_Image"][/siteorigin_widget]