Ask and we shall tell
You can find answers to most questions here but if you have a question that's not answered below then check our 'How they work' page or failing that please contact us at we will get back to you as soon as we can with an answer.
Q. Why the grenade shape?
One of our more divisive and interesting questions!
For a full and frank explanation from Darren our Founder and CEO please see the statement below:
Q. Why should I use a seedbom?
The world is full of places that are unfortunately a little rundown, tired and unloved. Seedboms give you the power to brighten up these places with flowers allowing you to make a responsible impact and a difference however small it may be. Plus they are fun!
Q. How do Seedboms work?
Q. Coverage - What size of area can a Seedbom fill?
It depends on the variety and growing conditions but generally speaking Seedboms are designed to create little wildflower patches as opposed to a larger spread/meadow type of growing. Typically they can take up an area of around 30 cm sq (medium/large pot if potting) Height wise some plants can grow up to 2 feet +.
Please note wildflowers tend to spread out naturally given the time and space. Some varieties such as forget-me-nots will self-seed and spread over a wide area.  The seedlings can also be spread out if needed either at first sowing or by separating the seedlings by hand, being careful not to damage the roots.
Here is an example of one of our customers before and after results using 3 of our Seedboms to take over a small space (approx 90cm x 40cm. This has been taken in late spring over a 3 months period.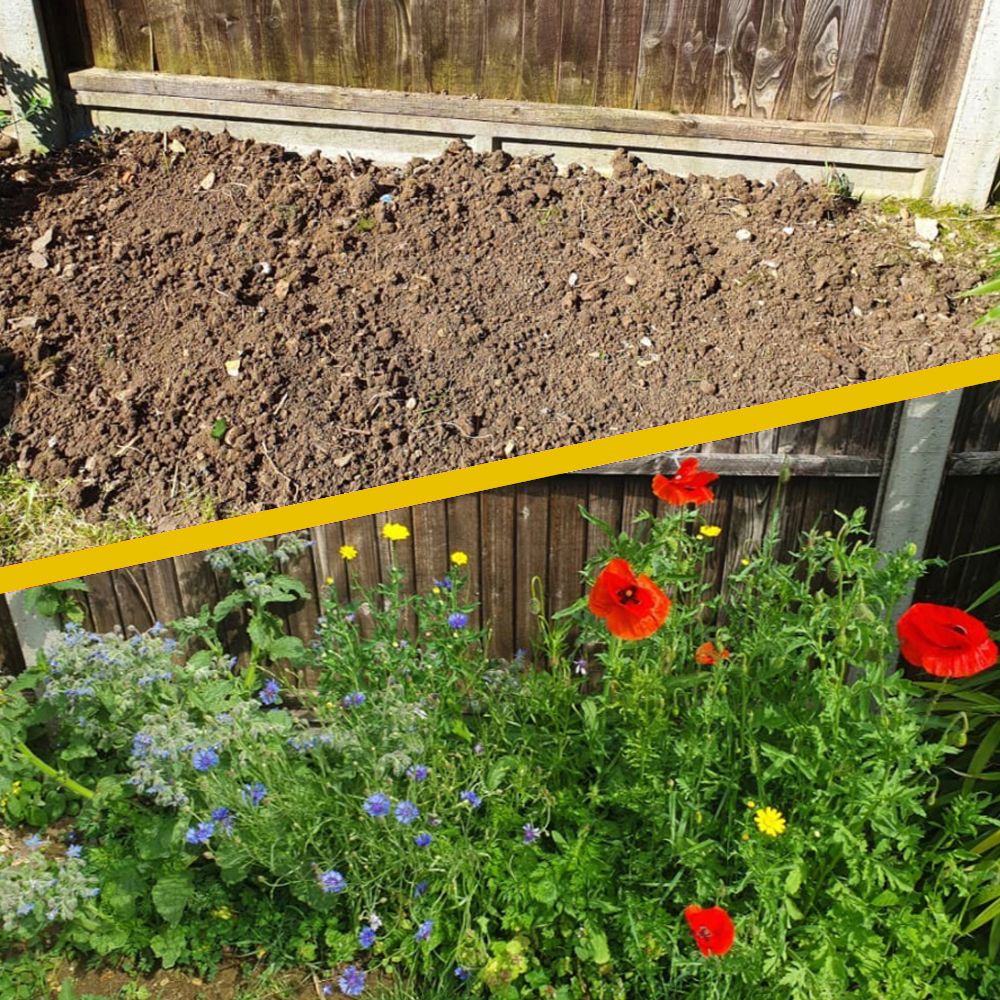 And another showing 10 Seedboms over a larger verge area.
Q. Why wouldn't I just scatter seeds instead?
We aren't claiming that Seedboms should replace growing wildlflowers the conventional way. However we find the scatter approach can be a bit hit and miss results wise. Seedboms are predominately a fun, eco-friendly gift product that's easy to use by anyone regardless of any gardening knowledge or lack thereof.
Our Seedboms are essentially easy to use wildflower kits. They contain organic compost to help give the seeds a good start and shell itself holds moisture and protects the seedlings whilst also supporting the root system as it biodegrades. Seedboms are more than just seeds is what we are trying to say! Also it's more fun to throw a biodegradable grenade!
Q. Can Seedboms be grown indoors?
Technically no. It is fine to start growing your Seedboms indoors to get them started however they do need to go outdoors eventually in order to establish into healthy plants.
Q. What are seedboms made from?
Seedboms are made a starch and natural fibre based mix which is fully biodegradable.
Q. Can Seedboms be grown in pots, planters or window boxes?
Yes. Simply soak as normal and place your Seedbom on it's side on top of damp soil then tear open to expose the seeds and compost inside.
Q. What size are the Seedboms?
Seedboms are approximately 5.5cm in diameter and 8cm high.
Q. What seeds are inside the Seedboms?
We use a variety of seeds in our range. These include native single variety wildflower seeds such as Cornflowers, Corn Poppies and Forget-me-nots as well as wildflower mixes created to attract bees, butterflies and birds. We also use the occasional herb such as Thyme and Catnip. All our seeds are Flora Locale accredited and non GMO.
Q. Where are Seedboms made?
Our Seedbom shells are manufactured in the Netherlands. Everything is assembled, finished and packed in Glasgow, Scotland. Around 15 mins drive from our office….handy eh!
Q. Are Seedbom seeds Annuals, Biennials or Perennials?
It depends on the variety.  Many of our Seedboms contain mixed seed varieties, such as the Pollinator Beebom, which contains all 3.  Other varieties vary.  All the details can be found at the base of each info section on the individual product pages.
Q. How many seeds are there in a Seedbom?
Each Seedbom contains approximately 1 gram of seeds. Quantities vary depending on variety and seed size i.e. larger seeds approx 10 seeds per gram, mixes approx 100 seeds per gram and tiny seeds such as poppies can be approx 10,000 seeds per gram.
Q. When can I use Seedboms?
Seedboms are designed to be used from around April till June however depending on the variety you can use grow them as early as March and as late as October (flower the following year) is some cases. Further details can be found on each of the individual Seedbom product pages as well as on the packaging itself.
Q. How long can I keep my Seedbom before using?
For best results use your Seedbom within 1 year of purchase. Keep cool and dry when storing.
Q. My Seedbom won't grow, what's wrong?
There are a number of reasons why your seedbom may not grow, we try to give the best advice on how to grow your seedbom and we make Seedboms in a way that gives the seeds the best chance of growing. However, we cannot, unfortunately, offer any guarantees. Nature plays by its own rules and sometimes things just don't grow when they should. Seedboms need 3 basic things to grow and survive, water, heat and light. Take any one of these 3 things away and they just won't grow. If you are having repeated problems from lack of growth or dying seedlings then please get in touch and tell us about it, in most cases we will endeavour to replace your Seedboms where possible. Follow these simple rules and hopefully, things will grow just fine. (Further details can be found on our 'How they work' page).
Shake your Seedbom to disperse the seeds inside the shell.
Soak your Seedbom. We recommend you soak your Seedboms before use. Simply pull out the pin stopper and slowly pour in water until it has soaked through, goes soft and changes colour from light to dark. However do not over soak or over water, this can damage the seeds/seedlings and will inhibit growth.
Give your Seedbom light. Make sure your seedbom is getting enough natural light in its location. If you are having trouble growing them outdoors why not try germinating them indoors in a pot by a window before planting out once established.
Give them heat. Ensure you use your Seedboms during the seasons specified on the packaging to give them the best chance of growing. Although we cannot guarantee heat during these seasons these are the growing seasons specified by the suppliers and should stimulate healthy growth. 5
As a rule of thumb avoid frost and don't give up! Many wildflowers will lay dormant for weeks or months before sprouting into action when the time is right. Your Seedbom may look like it's dying off after initial growth, that is normal. Don't throw it out just yet, there could be wildflowers waiting to pop up the following spring once given a chance.
p.s. Don't give up on them! If the seeds are still intact there's a good chance they will lie dormant over the winter and then spring up when you least expect them to. Wildflowers have a habit of doing that! We have different flowers coming up every year from Seedboms planted years ago.
Q. Why can't I order just one Seedbom?
We've set our minimum order to £5 so that only 2 or more Seedboms can be purchased. There are 2 reason for this:
We are an environmentally conscious company. We hate to use more packaging than necessary and increase carbon footprint by clocking up road miles for deliveries. To send only one Seedbom uses lots of energy, sending two effectively halves the energy used.
A lot of time and man power goes into processing, packing, labelling and dispatching orders. It can seem like a lot of effort for only one Seedbom.
We hope you understand! If for any reason you really only need one Seedbom and you really can't order two then email us and we'll do what we can to help.
Q. Do you offer bulk discounts?
Yes, we do! Following discounts will automatically apply when adding Seedboms to the basket:
Spend £100+ to get 10% off your order.*
Spend £200+ to get 20% off your order.*
Your welcome!
*Please note these discounts do not apply to any customised products i.e. wedding favours.
Q. How do Bloom Points work?
Q. Do you ship outside Europe?
Unfortunately no we don't due to strict customs restrictions on import / export of seeds in many countries. However we do sell a US version of the Butterflybom and Pollinator Beebom through our US partner noted* meaning you can find Seedboms in the US in stores such as Terrain.
Q. I am interested in stocking seedboms in my shop, how do I go about setting this up?
Visit our Wholesale page and fill out the application. We will then check things over and all going well we'll approve your account. You'll then be able to login to the website as a wholesaler and view our trade prices and place an order.